Welcome to what WAS the Berkhamsted Arts & Crafts Website
We were once a proudly independent, family-owned-and-run business based in Berkhamsted (Hertfordshire), where we provided for the needs of the local art and craft community for nearly 50 years.

We finally succumbed to the inevitable and closed our doors for the last time on Saturday 30th July 2022.

Below you will find our potted history if that is of interest to you.

Thank you very much for visiting ... sorry we're no longer here to help you scratch that creative itch!
Berkhamsted Arts & Crafts - A Potted History
Rod and Tina Gibbs started their retail adventures in Berkhamsted way back in 1972 with the purchase of HAN.D.I.Y.MAN at the bottom of Swingate Lane, Rod from a background in banking and Tina from Occupational-Therapy and motherhood. Rod soon slipped into using his practical skills for picture framing and it wasn't long before Tina was teaching crafts at the local college. An arts and crafts supplies shop seemed a natural progression so in 1978 renowned local artist Dorothea Patterson cut the ribbon on a new venture and Berkhamsted Arts and Crafts (BAC) was born.
Things bloomed and it was soon evident that this new side of the business was outgrowing both the premises and their ability to run both, so they decided a move was in order. 'Stanleys' the greengrocers shop was becoming vacant so on December 2nd 1982 BAC took up residence at 258 High Street (picture below).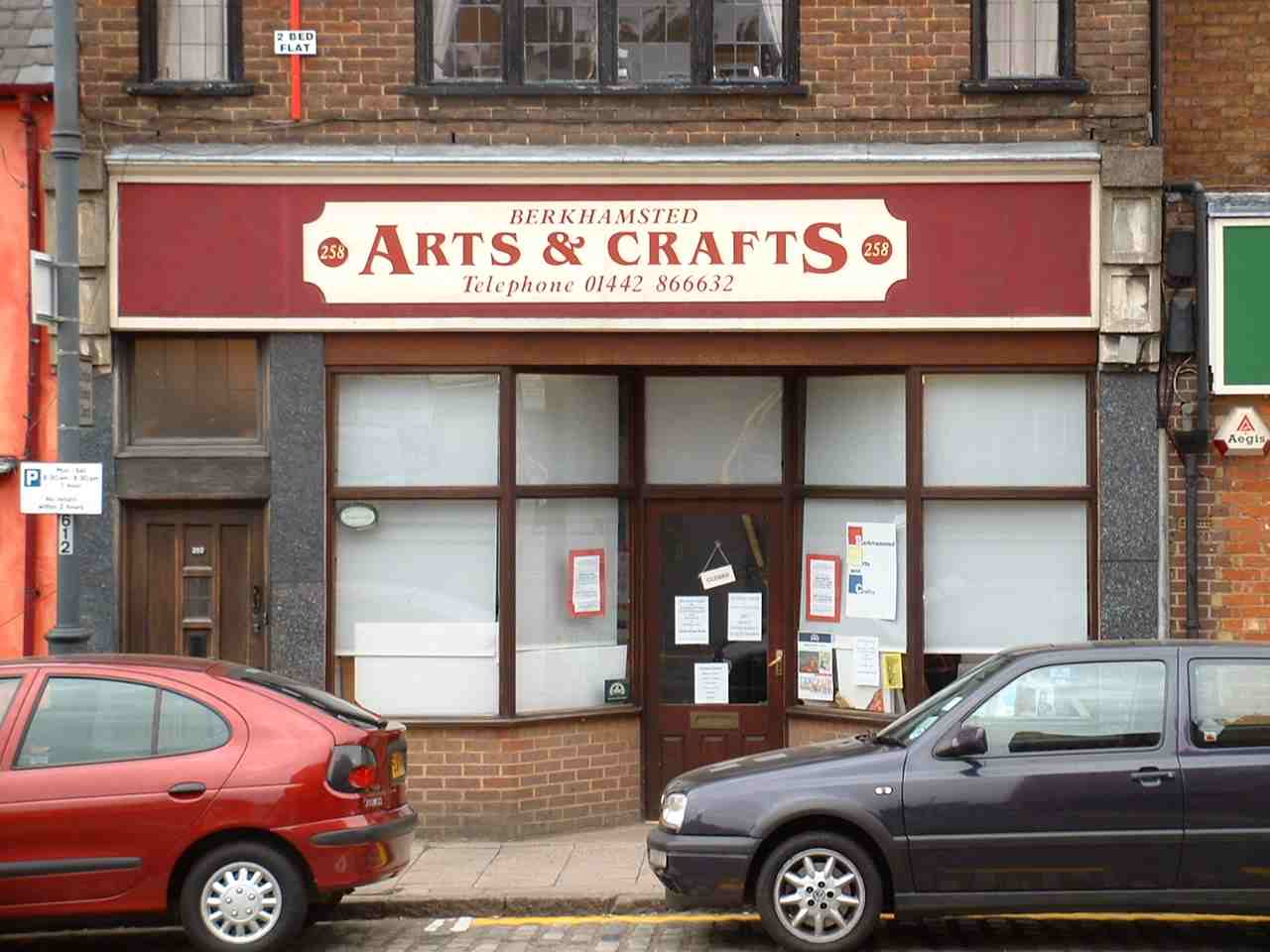 In the new shop they were soon in danger of being overwhelmed by the demand for their goods and services as the style of shop changed and product lines were increased. Further expansion seemed logical ... but to where? (retail properties were in short supply). After many fraught attempts to find a solution they realised it was staring them in the face and on their very own doorstep. So the back doorstep was moved, an extension built and the shop area doubled providing the space needed to expand further. However, (can you guess what's coming?) they soon found themselves pushed for space again, inevitably filling the new space and leaving little room for customers to actually shop.
Paula, their youngest daughter, joined BAC as a partner in January 2002 to carry on the business enabling Rod and Tina to take more time off. The need for more space was now becoming desperate and they knew that additional space would be ideal not only for the retail side of the business but also to be able to offer classes and demonstrations which were in high demand. So all the stops were pulled out to secure larger premises and BAC moved to 29-31 Lower Kings Road in August 2003 (picture below).

In 2007, their eldest daughter Jo (and husband Laz) moved back into the area and joined the team at BAC, with Jo taking on the task of increasing and improving the courses run in the classroom at the back of the shop. Jo and Laz's children Beth and Ben both worked in the shop on Saturdays (before leaving home to get married and attend university). More recently, both Paula and Beth's children have also been given staff badges and training and have helped serve customers. When you consider that Tina's mum also used to serve customers in the high street shop, there have been five generations of the family involved in the business over the years.
The building housing BAC (and Hamlins Toys) was sold to a new landlord in 2020. One of their first tasks was the updating (picture below) of the aging shop front ... but that was one of very few positves in the early 2020s. The 'perfect storm' of Brexit, Pandemic, rising costs and steadily falling sales finally undermined BAC's 'bottom-line' to the point of failure and the 'Closed' sign was hung on the door for the last time on Saturday 30th July 2022.